BMIS data collection at 3,800 meters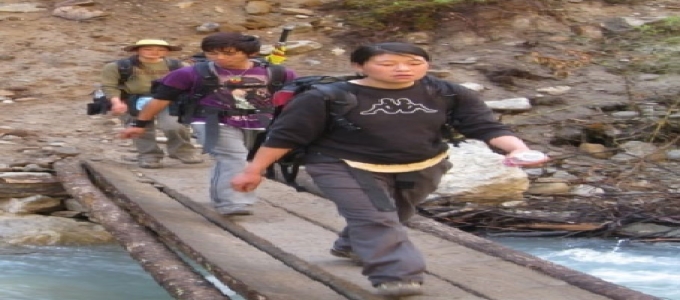 May 2010 , on the way to Laya: Be it rain, hailstorm, snowfall, burning sun, we continued our hike to interview the mountain people of Bhutan. After two days of walk from the road head, the Gasa enumeration team, sweating and exhausted from the intense hike in the sun, arrive in Laya village at 3,800 metres above sea level.
Curious Layaps (people of Laya) with rosy cheeks from the cold bites peep through small windows. With little exposure to strangers, a child hides behind her mother's dress. The Tsogpa (village head) courteously meets the enumeration team and invites for suja (butter tea). The supervisor hands over the letter from the district authorities and explains the purpose of the visit to Laya. The Tsogpa's household is the first to be selected and the interview begins.
Visit any dzongkhag (district) in May-June-July and you will witness the enumeration teams equipped with bag packs, trekking boots, umbrellas and sleeping bags; and carrying questionnaires and measuring equipment; conducting interviews in selected households. Most of the enumerators are class XII pass outs and college graduates. When asked why they decided to be an enumerator, one of them said, "I want to contribute to data collection for Bhutan's development, and also gain work experience".
The enumeration teams are an energetic lot and serious about their work. Even after hundreds of household visits they still perform each interview with the same vigour which is further boosted by the generous offering of hot tea and snacks in almost all the houses. The local hospitality is overwhelming. You will always hear repeated Kadrin che (thank you) to the National Statistics Bureau (NSB) and UNICEF for visiting them.
Enumerator Pema interviews a Merak woman in East Bhutan - May 2010
In their quest for collecting the Bhutan Multiple Indicator Survey (BMIS) data, the enumeration teams are facing numerous challenges from hiking the rough terrain in Laya to repeatedly visiting the nomadic herders in Merak or interviewing busy farmers late at night in hot Yebesa. Despite these difficulties, the young enumerators do the job with passion.
Bhutan is implementing this survey for the first time. 40 teams comprising of enumerators, measurers, editors and supervisors are reaching out to the remotest areas of the mountainous Kingdom. The expectations from the survey are high. The data collected from BMIS will contribute to a healthy and happy environment for children in Bhutan.
Dec 28, 2012
News
admin 1933 views

---