Gewog Level Database Development Workshop/Training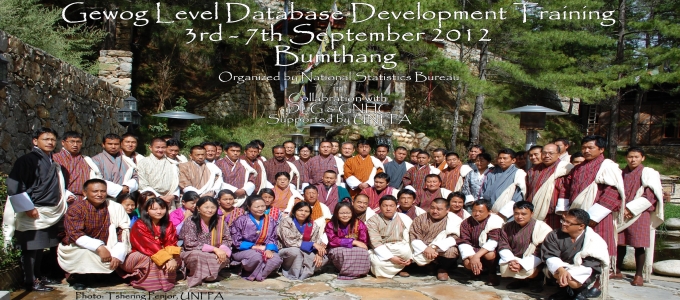 With support from UNFPA, NSB organized a consultative workshop/training from the 3rd-7th of September 2012 to Develop a Gewog Level Database. The workshop/training was conducted in collaboration with DLG and GNHC targeted at the Gewog level officials and representatives of different sectors at the Dzongkhag.
The main objected of the workshop/training was highlighted as follows:
1. Strengthening the statistical Database at the Gewog level.
The need for data at the Gewog level has been highly felt at different levels and across agencies. Currently, different sectors collect data relevant to their sector at the Gewog Level engaging their own officials. However, the absence of a centralized database of all the data collected has been highly felt. Data collected by different sectors are kept within their own sector. Creating a linkage between the sectors and the Gewog center will strengthen the Gewog Level Database by having a centralized data repository at the Gewog center. Sending a copy of the official sector data to the Gewog center will create all the linkage that is required at the Gewog level. This will also enable the availability of all the Gewog level data at the Gewog center whenever required.
2.Identification of Gewog statistical focal person.
The workshop/training recommended to come with a focal person at the Gewog center to coordinate the collection of data from the various sectors at the Gewog level.
3. Improving the statistical coordination within the Gewog and the Dzongkhag.
The workshop/training was targeted not only to create coordination within the Gewog but also between the Gewog center and the Dzongkhag. This will also strengthen the statistical database at the Dzongkhag level.
4. Train Gewog Level Officials on basic statistics.
It was also to train all the participants on some basic concepts and definition of statistics.
5. Coming up with a data collection format in consultation with the Gewog officials.
NSB in consultation with the relevant officials drafted a data reporting format before the workshop/training. The format was discussed with the Gewog level officials for their comments and the availability of the required data.
6. Testing of the data collect format.
The data collection format, which will be designed by NSB will be tested in Bumthang.
The main outcome of the workshop/training was the set of recommendation made by the participants and the way forward engrossed by the participants, Offtg. Dzongda (Dasho Dzongrab) of Bumthang and Dasho Drangpon. (Click to download the way forward).
Presentation of Participants:
Agriculture Group
Livestock Group
Gewog Office Group
Forestry Group
Education Group
Health Group
Dec 28, 2012
News
admin 2285 views

---